Filter by Category
Language and Culture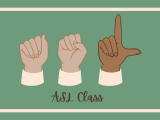 American Sign Language (ASL) for Beginners
with Carrie Pierce

Feb 28, 2024 at 5 pm
This 7 session course will cover basic ASL grammar skills, conversation skills,  and  vocabulary.  Themes covered will be calendar, clothing, colors, activities, families, feelings, ABC's, 123's, food  and opinions. We will do a wide variety of activities through the class.
This will be taught by Carrie Pierce and facilitated by SarahJoy Chaples. 
Carrie is a Deaf graduate of Gallaudet University, and is also a Nationally certified ASL teacher, she also holds Maine State ASL endorsement, as well as several other teaching certifications.
SarahJoy Chaples (hearing) has a Masters in Human Development from UMaine. She has been working in the Deaf Community off and on for the past 25 years. 
This will be a beginning ASL, no experience required.
Please opt to pay-by-check for this class,  if you can. Once you register online, your registration receipt will provide the address where you can send a check: "MDI Adult Ed"
Make-up date is April 24, if needed. 
French: An Introduction
with France Hilbert

Feb 28, 2024 at 6 pm
This course will help beginners develop basic proficiencies in all four skill areas: listening, speaking, reading and writing.
Class time will be devoted to reading dialogues, pair work, small and large group discussions, written and oral practice of structure and vocabulary, and use of internet resources. We will use the French TAXI curriculum which includes a text and a workbook.
No Class April 17.