Filter by Subcategory
Lifelong Learning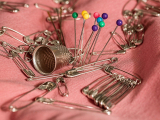 Sewing Lessons for Beginners Section 2
with Ruth Davis

Dec 3, 2022 at 10 am

, runs for 3 weeks
Learn how to sew by working on a beginner sewing project picked by instructor Ruth Davis. Please indicate which section you want. If you are mailing in your registration (vs online registration), please call first to ensure there is space: 288-4703. We plan to run an intermediate class during the winter semester. Class sizes are limited to 4.
Classes are located at the store at 11 Seal Cove Rd, Southwest Harbor.
Full Course
INTRODUCTION TO THE UKULELE FOR SENIORS - WE'LL TAKE IT SLOW AND EASY
with Duncan Perry

Dec 7, 2022 at 10 am

, runs for 2 weeks
This is an online, ZOOM class.
It is never too late to learn to play a musical instrument -- and, besides, it's good for you! And whatfun it is to pick up a ukulele and knock out a tune for your grandchildren, or better yet, play along with them. Or how about the thrill of playing for friends and with others? Here's where thatjourney begins! Join us for our easy-paced, no-pressure, fun-filled ukulele class! Our seasoned andpopular ukulele instructor, Duncan Perry, himself a senior, loves sharing his knowledge of themighty ukulele and will start you out slowly. He will teach you a handful of chords and some basicstrumming patterns and you will leave the class knowing how to play songs you grew up with! Noexperience playing an instrument is necessary and you don't have to know how to read music. Butyou do have to promise to practice regularly! Of course, you will need a playable ukulele and atuner or tuner app. If you don't have one available, please contact us for helpful information aboutbuying one. So grab a uke, sign up, tune up, show up and bloom on Zoom! (We can help you getacclimated to Zoom too, but you will need a computer or tablet capable of receiving Zoom). 2 sessions $39
Online Registration Unavailable