Filter by Category
Certificate Programs
Preparing for College or Career
with Timothy McKim

Jan 6, 2020
Maine College Transitions is a complete program that guides you toward your goal. Whether you know exactly what you want or have no idea what you could do, Maine College Transitions is the best place to start.
Maine College Transitions is ready when you are. All you need is the desire to further your education and to have completed, or be working toward, a high school credential (GED or HiSET®). Classes are taught by teachers who want you to succeed. You will be in classes with people like you who want to take the next step.
Hundreds of students who completed Maine College Transitions have gained entrance to trade schools, community colleges, and four-year colleges or universities. If you have a dream and the desire, we have the tools to get you to your goal. We will be there to guide and support you every step of the way.
First step: register online or contact us for an introductory meeting to see if this program is a good fit for you.
Online Registration Unavailable
Certified Clinical Medical Assistant
with CCI Staff

Feb 25, 2020 at 5:30 pm
This program is intended for students who want to prepare for an exciting, challenging and rewarding career in healthcare.  It will train students to assist physicians by performing functions related to the clinical responsibilities of a medical office.   This program includes 140 hours of classroom lecture and hands on labs and a clinical externship opportunity at a local healthcare provider.  To be eligible for the clinical rotation, students must successfully complete the 140-hour program, submit to a thorough background check, drug screening and meet other requirements.  
All students will meet with the Director, Anne Patterson, to fully enroll them. 
There is an optional 160 hr externship that will be arranged if necessary.
Note:  Upon successful completion of this program, students would be eligible to sit for the National Healthcareer Association (NHA) Certified Clinical Medical Assistant (CCMA) national examination for a fee. 
Note: Some classes will be held at MDI Hospital, but this will be discussed in class.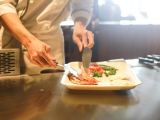 Online Registration Unavailable
ServSafe® Food Safety Program for Managers
with Ken Bakos
Come for this great one-day course to obtain the "ServSafe Manager Certificate" and satisfy the State of Maine requirement for having a certified food manager on premise. Course includes textbook, study guide, practice exam, classroom training, exam and certificate. Certificate valid for 5 years. Please call 217-2500 to register over the phone or online at: www.onfocussolutions.com. This class costs $149.00. Please go to the website www.onfocussolutions.comfor the schedule and location of classes. MDI Adult Ed does not accept registrations for this program. You must visit the website above or call 217-2500.