Filter by Category
Home & Family
Gardening: Grow Your Own Organic Garden
with Suzanne Morse

Apr 8, 2020 at 6 pm

, runs for 1 week
Join this highly popular class offered by MOFGA!
Interested in learning how to grow your own vegetables in a sustainable manner? Join us for an evening-long workshop on how to grow your own garden organically. Topics covered: soil science, enriching soil, fundamentals of composting, crop rotation, use of green manures, plant vs week identification, weed control, dealing with pests, etc. The instructor is an experienced farmer or gardener in our area. Free seeds will be provided! All are welcome, from first-timers to experienced gardeners who want to experiment with new techniques. We will even send you home with free seeds!
Will run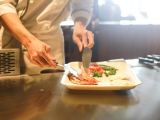 Online Registration Unavailable
ServSafe® Food Safety Program for Managers
with Ken Bakos
Come for this great one-day course to obtain the "ServSafe Manager Certificate" and satisfy the State of Maine requirement for having a certified food manager on premise. Course includes textbook, study guide, practice exam, classroom training, exam and certificate. Certificate valid for 5 years. Please call 217-2500 to register over the phone or online at: www.onfocussolutions.com. This class costs $149.00. Please go to the website www.onfocussolutions.comfor the schedule and location of classes. MDI Adult Ed does not accept registrations for this program. You must visit the website above or call 217-2500.
Sewing for Beginners and Beyond
with Ruth Davis
Interested in learning how to sew? Let Ruth Davis at Quilt n' Fabric in Southwest Harbor get you started. Register here online. Then you will then be eligible to receive 4 (perhaps more!) sewing classes. You will schedule your lessons with Ruth directly as she can offer them on weekends as well as weekdays. First come, first served. Once you register, Ruth will contact you to set up your schedule.
Full Course